On-demand bird feeders can be a boon to elderly people who run a farm or when people want to go for a vacation or for those who stay away from home most of the time and yet love their pet birds. When they are easy to operate and fill, it becomes all the more fun, using an on-demand bird feeder kit. Peck-O-Matic is an on-demand bird feeder kit that's self-sufficient when it comes to bird feeding.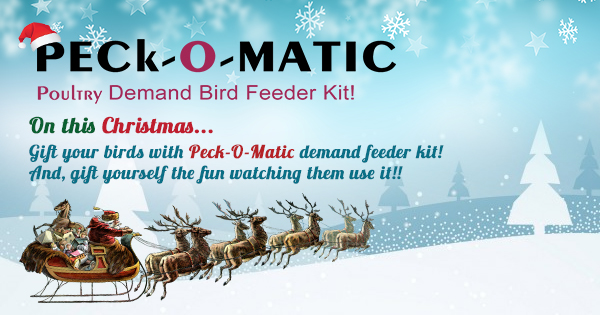 Typically, it contains a feed storage, a simple technique using which the birds can demand a feed and technology to make sure that the only the right quantity, but ample quantity, of feed is supplied. Since it is fully automated, the pet owners or the poultry farm owners can use it to set up for short vacations without having to depend on external help or getting worried about the bird-feeding part.
This is the perfect gift for your elderly parents and kids for this Christmas and New Year season. They would love the convenience it gives and makes sure that their beloved pets are well-fed even if they forget to feed them. They no longer have to look for arranging a person to feed the pets during their absence.
What is Peck-O-Matic?
The Peck-O-Matic is easy to use gravity bird-feeder which the birds learn to use themselves within a couple of hours of installation! It is as simple to use. A 5-gallon pail is used as the storage feed which can be hung or installed on a stand as per your requirement. This pail has a funnel and a valve through which the feed is dispensed to the feeder whenever the birds demand it. One main advantage of using the Peck-O-Matic is that feed is never wasted. Only small quantities are dispensed that too only when the bird demands the feed. The feeder can be used for wide range of birds such as duck, geese, turkey, chicken, quail, dove, peafowl, swan etc. It can be easily installed and the height can be adjusted as your birds grow.
How can I order?
Check out our website for our online store or call us to assist with booking your own Peck-O-Matic. You can purchase Peck-O-Matic online and assemble it yourself quite easily. Our website has videos and images on assembling the Peck-O-Matic gravity feeder.
Why Peck-O-Matic?
Peck-O-Matic is definitely a great solution for automatic bird feeding. It can be adjusted to dispense different types of bird-feed. It makes sure that no feed is wasted as the feed is supplied only on demand. It does not require a power supply or batteries to operate. You no longer have to fear of the rodents that might eat away your precious bird-feed! Because it involves pecking and grabbing, you are only helping the birds develop their natural eating habit but not giving them too much feed.
Order now to gift Peck-O-Matic as your Christmas / New Year Gift to your parents and / or kids! They would love to set it up for their favorite pets and spend hours admiring how their beloved winged friends learn to use it.